(Este post está escrito en inglés y español, scroll down for the english version)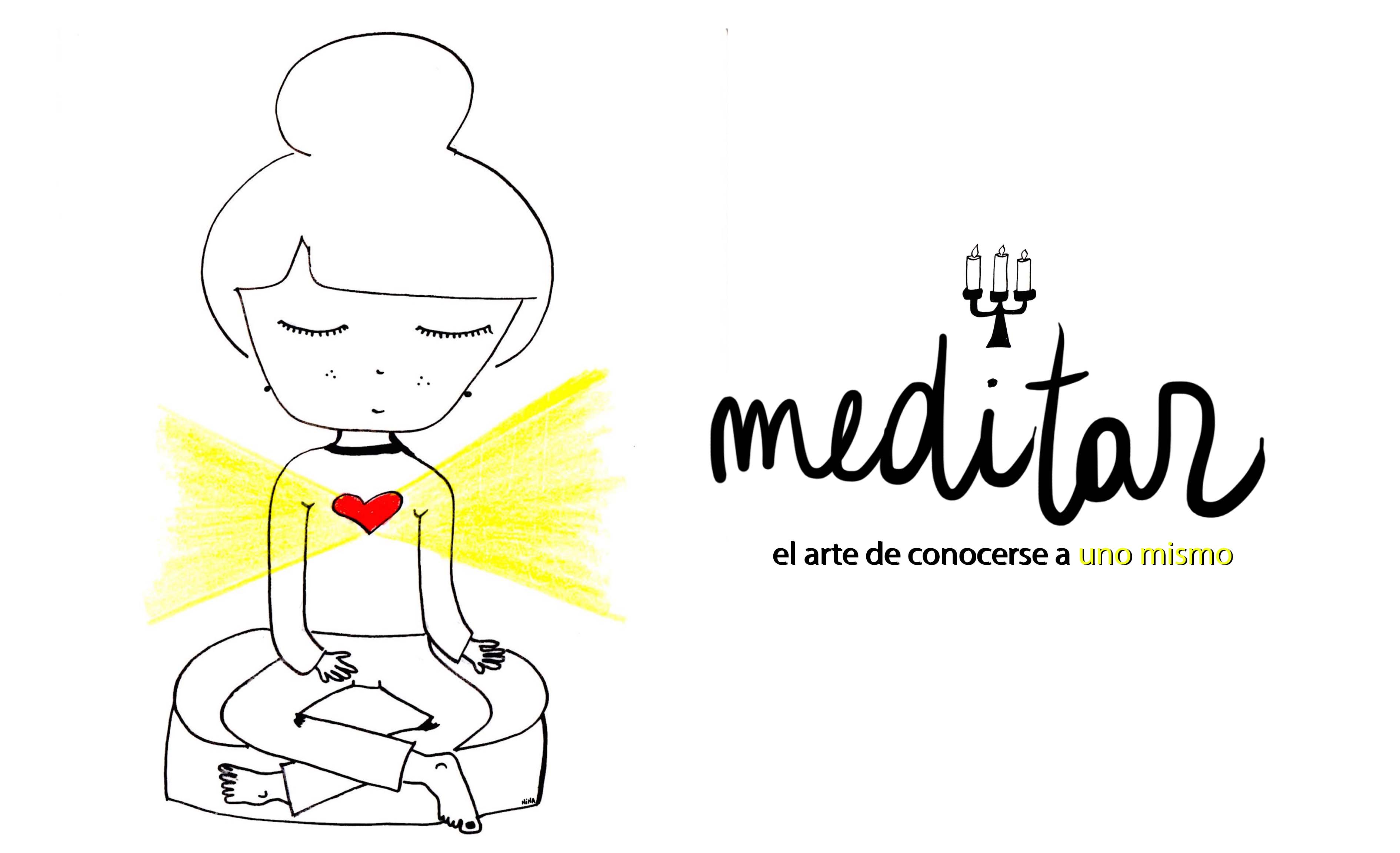 Meditar es algo que estoy aprendiendo. No voy a hablar desde el punto de vista de una experta, ni hacerme la genia meditadora. Soy como cada uno de ustedes, una simple mortal probando todo tipo de técnicas de diferentes colores y tamaños para encontrarme conmigo misma y construir mi propia felicidad.
Desde mi punto de vista, meditar debería ser algo simple, algo natural que nos deberían de enseñar desde chiquitos, como cuando nos enseñan a comer, ir al baño, lavarnos los dientes; deberían sumar meditar. Estar en silencio con nosotros mismos debería ser algo fácil, sencillo que sospecho lo traemos incorporado pero lo vamos perdiendo a medida que vamos creciendo y nos zambullimos en la carrera de ser grandes. Porque seamos sinceros, estamos con nosotros mismos desde el momento en que venimos a este mundo hasta que nos vamos y es muy loco que nos cueste conectar con nosotros. He escuchado a varias personas decirme, yo no puedo sentarme a meditar, me volvería loco. Otras simplemente me preguntan ¿qué gano con eso?, siento que pierdo el tiempo, que no hago nada. A veces las cosas más simples, que no requieren de hacer cosas, sino de simplemente ESTAR es lo que necesitamos. Porque no querer conocernos o escucharnos nos puede alejar de lo que realmente somos y muchas veces nos hace confundirnos o seguir modelos que son exteriores y que nada tienen que ver con nuestra esencia.
La meditación es una buena herramienta para volver a escuchar a ese yo interno, a conectar con nuestro interior, nos ayuda a estar en silencio un rato y ver que pasa adentro. Y aunque puede sonar aterrador estar mano a mano con nosotros mismos, creo que es el único camino para CONOCERNOS de verdad.
Si no tienen idea como empezar o que hacer (como me paso a mí) primero hay que ser conscientes que hay un montón de información deformada sobre este tema y hay que tener cuidado porque está lleno de personas que juran ser gurus iluminados con talentos especiales. Meditar requiere VOLUNTAD de hacer la práctica, no necesitamos retiros estrambóticos a islas paradisíacas (aunque suena muy bien). Lo podes hacer desde el living de tu casa, en tu oficina, cuarto o cualquier lugar que consideres. Es verdad que tener un ambiente que nos ayude a estar tranquilos, a estar en paz sin interrupciones es mejor.
Yo empecé a meditar en el 2013 cuando todavía estaba en Uruguay, comencé clases con una profesora de yoga que me introdujo a la meditación Vipassana. Me compré un libro sobre meditación vipassana "El Arte de Vivir" y hacía meditaciones guiadas con un audio de S. N. Goenka llamado MINI ANAPANA. Esto me ayudaba bastante durante el proceso y me hacia volver una y otra vez cuando la mente se iba de paseo por donde quería. Lo que me gustaba de esta técnica era su simplicidad y que sólo requería sentarme con la espalda recta en un ambiente que me sintiera a gusto y respirar. El objetivo siempre era prestar atención a mi respiración. Debo de admitir que no medito de manera continua desde el 2013, lo uso como herramienta cada tanto, pero es uno de los objetivos de este año, sentarme a meditar un poquito todos los días.
Así que si están interesados en el tema les dejo todos los links arriba en el artículo y recuerden que meditar no requiere: ropa cara, retiros espirituales o prácticas difíciles. Requiere querer conocerse más a uno mismo y tener la voluntad de dedicarle todos los días unos minutos de su vidas. Les dejo un video para motivarlos y les deseo que tengan una linda semana. Caro.
Video vía Daniel Curbelo, Copyright Happify.
——————————————————————————————————————————–
MEDITATION: THE ART OF KNOWING YOURSELF.
Meditation is something I'm learning. I will not speak from the point of view of an expert and do not expect me to be a meditation genius. I am like all of you, just a mere mortal trying all kind of things and techniques of different colors and sizes to find myself and to build my own happiness.
From my point of view, meditation should be something simple, something natural that we should be taught when we were children. As when we learned how to eat, how to brush our teeth or even how to go to the bathroom, we should add meditation in the course of life. To be silent with ourselves should be easy but I suspect that we bring that ability with us and when we start growing up into our big selves at some point we loose this power. Because, let's face it, we are with ourselves from the moment we came into this world until we depart and is crazy to think all the barriers we create to connect with us. When I talk about meditation, several people tell me that for them is imposible to sit down and meditate because they will go crazy. Other people simply told me that they don´t find a benefit, they feel they are wasting their time or just doing nothing. I am convinced that the simple things are, the best. We tend to pretend that knowing ourselves is something we don´t need, it is easier to keep going outside, but the truth is that sometimes going to much outside, we can loose ourselves and we can build up a life that has nothing to do with our essence.
Meditation is a good tool to listen to our inner self, to connect with ourselves, it helps us to be silent for a while and see what happens inside. And it may sound frightening to be face to face with ourselves, but I truly think it is the only way to know us better.
If you want to meditate but you have no idea how to start or what to do (as it happened to me) first you need to be aware that there is a lot of distorted information on this issue and you must be careful. Also, the world is full of people who swear to be mediation gurus with special talents and powers and that may not be true. We all have the power inside to connect and meditate. Meditation requires willingness to practice, we don´t need expensive retreats to paradise islands (although it sounds very good). What you need to do is to sit down in a quiet space, it can be your living room, your office, the park or any place you want.
I started meditating in 2013 while I still lived in Uruguay. My yoga teacher at that moment introduced me to Vipassana meditation. I bought a book about Vipassana meditation "The Art of Living" and as I started, I used an audio called MINI Anapana by S.N Goenka, which guided me in the whole process and helped me to come back when my mind was in the mood of walking away. What I liked about this technique, was its simplicity. The first thing I had to do was to sit up straight in a calm environment and just breathe. The goal was always to pay attention to my breathing. I must admit that my meditation practice is not something I did in a continuous way since 2013, but I did use it as a tool in my daily life. One of the objectives for this year is to sit down to meditate a little bit more every day.

So if you are interested in the topic I leave you all the links in the post and remember that you are not suppose to have fancy clothes, to go to expensive retreats or have difficult practices in order to meditate. It requires you to want to DISCOVER MORE ABOUT YOURSELF and to be willing to devote a few minutes every day of your life. I leave a video I loved about meditation and hope this post motivates you to start knowing yourself a little bit more. Happy week and happy hearts, Caro.
I found the video by Daniel Curbelo, Copyright Happify.