Kate Bingaman is a multifaceted artist involved in the art world through art projects, drawing, painting, performing installations and she also teach clasess at the University. Super woman, right? I start loving her work ​​because of her doodles

and its "Daily Drawings Project". Since February 5th 2006 until now she draw what she buy in a daily basis as a way to document the process of consumption in her life. She conjugated the desire to develop their drawing techniques and to have control of her daily expenses. I found this project not only fun, but super creative and interesting, a good way to mix these two worlds: the real (routine, which we are all immersed ) and her artistic side . She has published books about this project and continues to find creative ways to document with doodles her daily life. If you want to know more about the life of Kate I recommend reading this article from The Great Discontent ( a site that I read often) which summarizes this artist I admire. Have a great Wednesday people! love, Nina.
SPANISH: Kate Bingaman es una artsta polifacética que realiza instalaciones, proyectos de arte, además de dibujar, pintar y dar clases en la Universidad. Llegue a ella por sus doodles

 y su proyecto "Daily drawings o " Dibujos diarios" donde todos los días dibuja lo que compra como una manera de documentar el proceso de consumo en su vida. Este proyecto lo comenzó el 5 de Febrero del 2006 y lo continúa hasta ahora. De esta manera conjugó las ganas que tenía de desarrollar sus técnicas de dibujo (obligarse a dibujar todos los días) y llevar sus gastos diarios. Me pareció no sólo divertido, sino súper creativo e interesante el unir esos dos mundos el real (de rutina , al que todos estamos inmersos) y su lado artístico. Ha publicado libros sobre este proyecto y sigue encontrando maneras creativas de documentar su vida diaria con ilustraciones. Si quieren saber más de la vida de Kate les recomiendo lean este artículo de The Great Discontent (un sitio que leo seguido) donde se resume perfecto a esta artista que admiro. Que tengan un lindo miércoles, besos Nina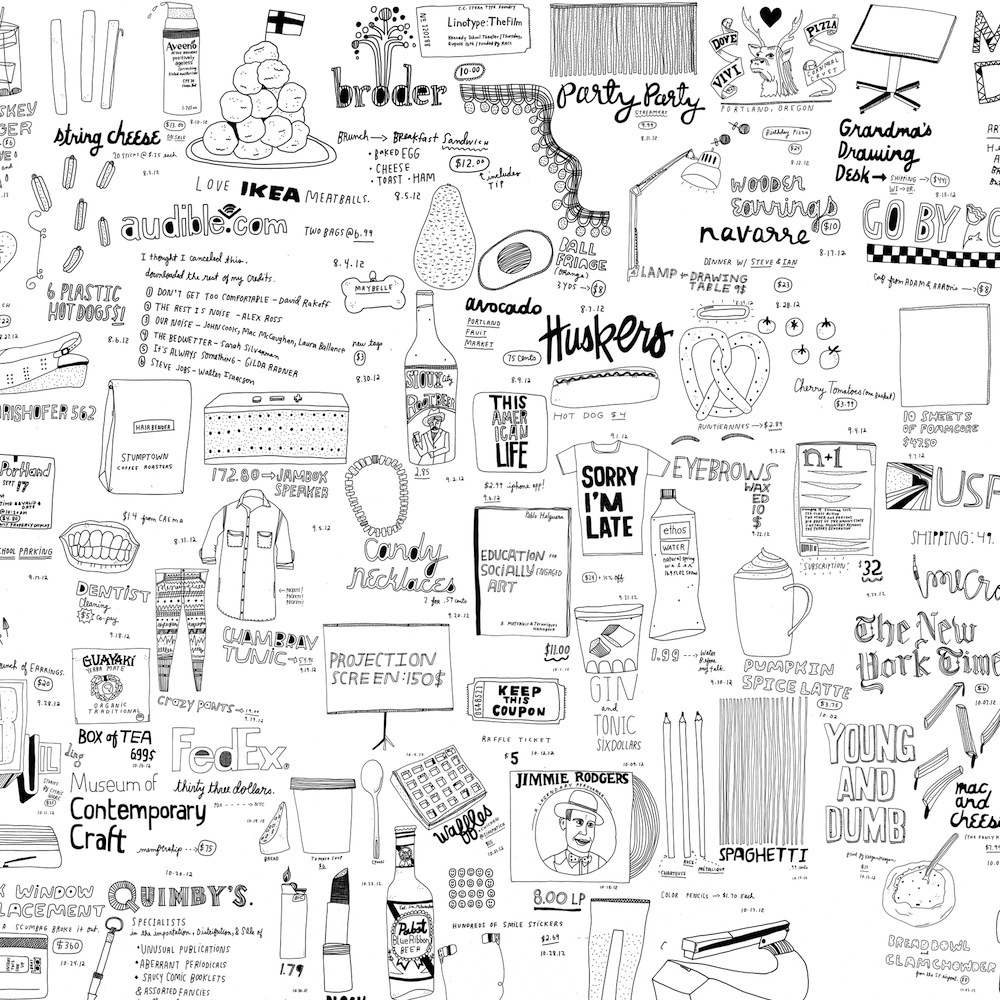 Credits: All pictures here are copyright of Kate Bingman.