(Este post está escrito en inglés y español, desplázate hacia abajo para leer en inglés)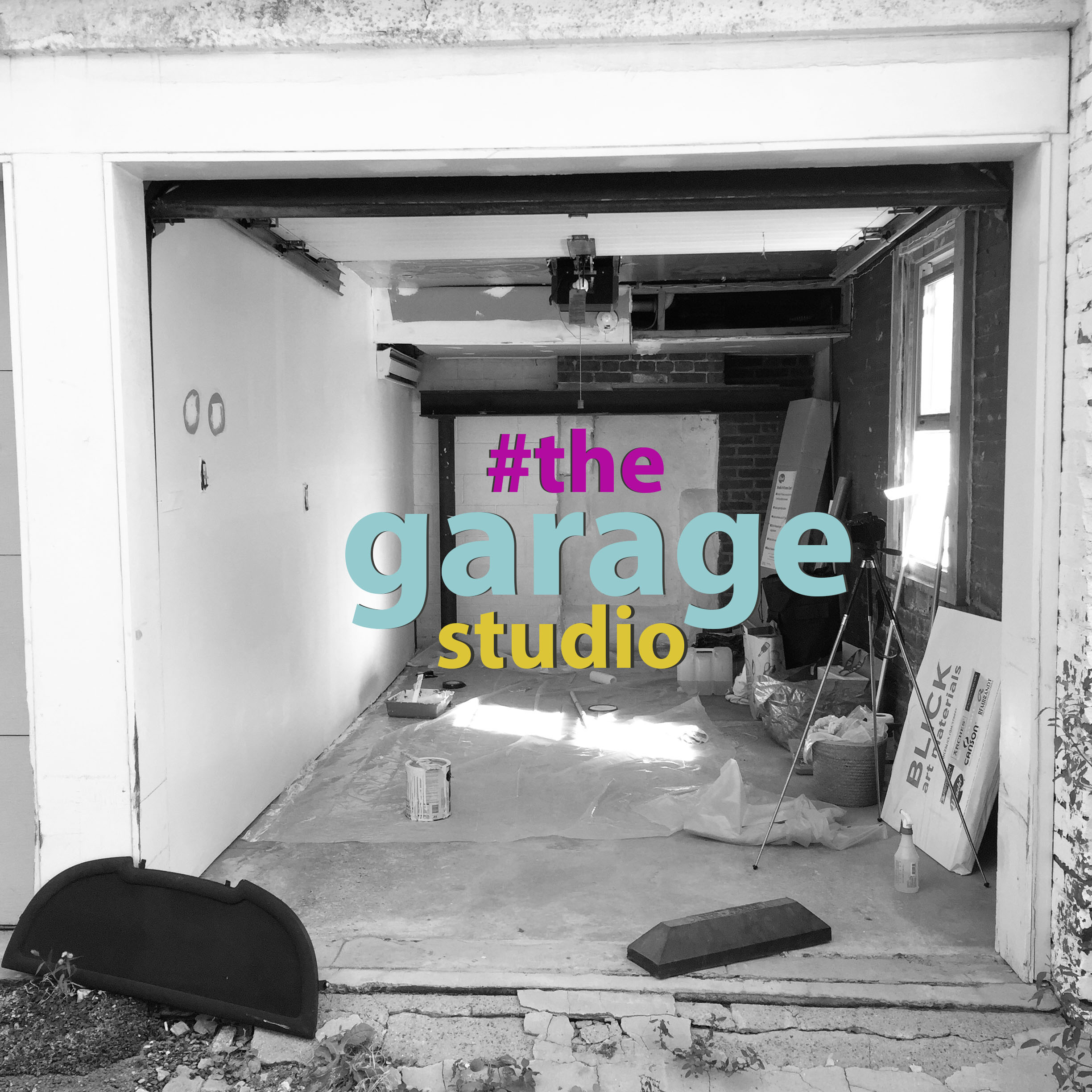 Esta es la historia de un garaje, si un garaje que nació para convertirse en estudio de arte. Desde hace un tiempo he estado cada vez más entusiasmada con la idea de hacer arte o por lo menos jugar a que hago cosas. Uno de mis primeros intentos de empaparme un poco más de este mundo fue durante el otoño pasado cuando me inscribí en un workshop de pintura abstracta de acrílicos. Me encantó la experiencia y me animé a anotarme en un curso un poco más largo de acuarelas. Un miércoles volviendo de la clase de acuarelas se me ocurrió que sería divertido e interesante tener un lugar en donde pudiera crear, no en el living o el cuarto de mi casa, un lugar dedicado a esto. Viviendo en DC (y básicamente en cualquier ciudad del mundo) y teniendo en cuenta lo irreal de pagar un alquiler para esto, empecé a pensar en maneras creativas de solucionar el problema. Y por arte de magia lo único que se me vino a la mente fue un garaje, el garaje donde mi novio guardaba su auto (gracias por novios con garajes).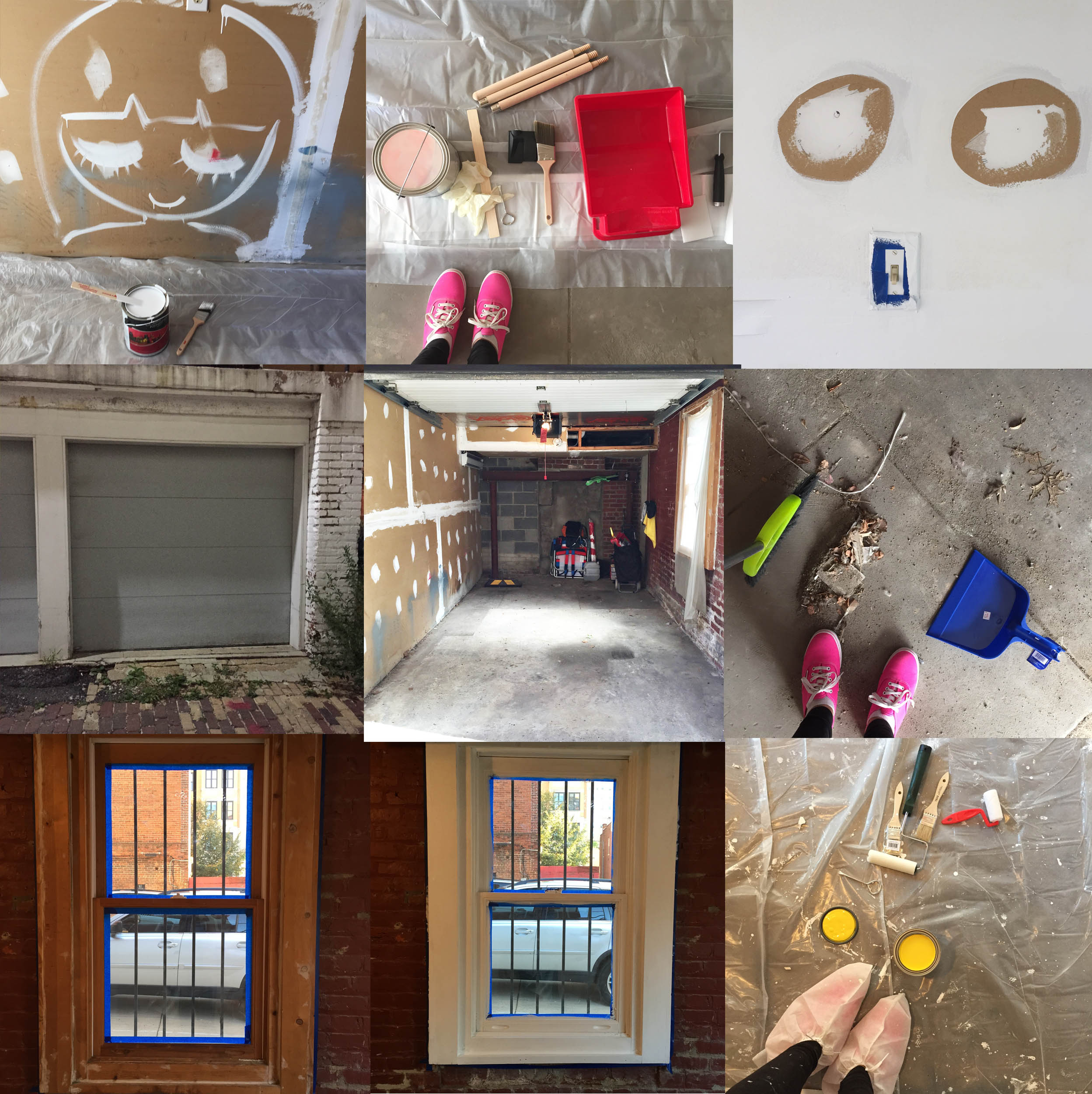 El lugar era óptimo, tenía una ventana, quedaba cerca de mi casa y podía ver que tenía un potencial importante para convertirlo en lo que yo necesitaba. Necesitaba pintarlo, limpiarlo y ponerle un poco de cariño para hacerlo un lugar lindo, donde pudiera estar.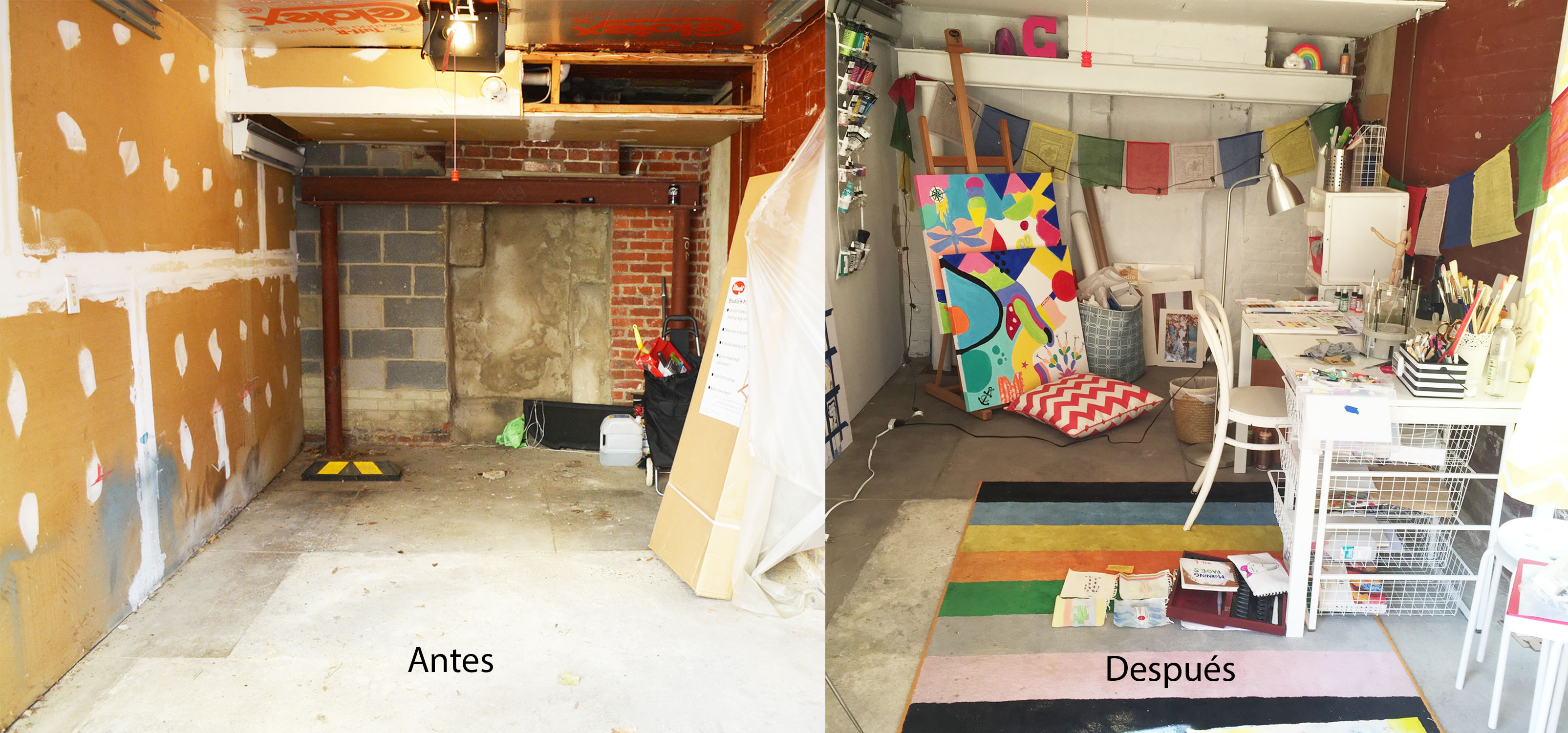 El primer paso fue convencer a mi novio que lo cediera literalmente por amor al arte ;P, después debía de conseguir otro garaje para guardar su auto, hablar con los propietarios, pedir permiso para que me dejaran usarlo de studio y refaccionarlo, o sea limpieza y pintura. Durante estos procesos que se sucedieron en un total de un mes y medio hubieron momentos donde realmente no sabía si me iban a dejar utilizarlo para lo que yo quería usarlo. Pero para mi felicidad el propietario accedió a que en ese lugar cerrado y oscuro destinado a ser el dormitorio de un auto se convirtiera en el lugar que yo había soñado: un lugar para crear.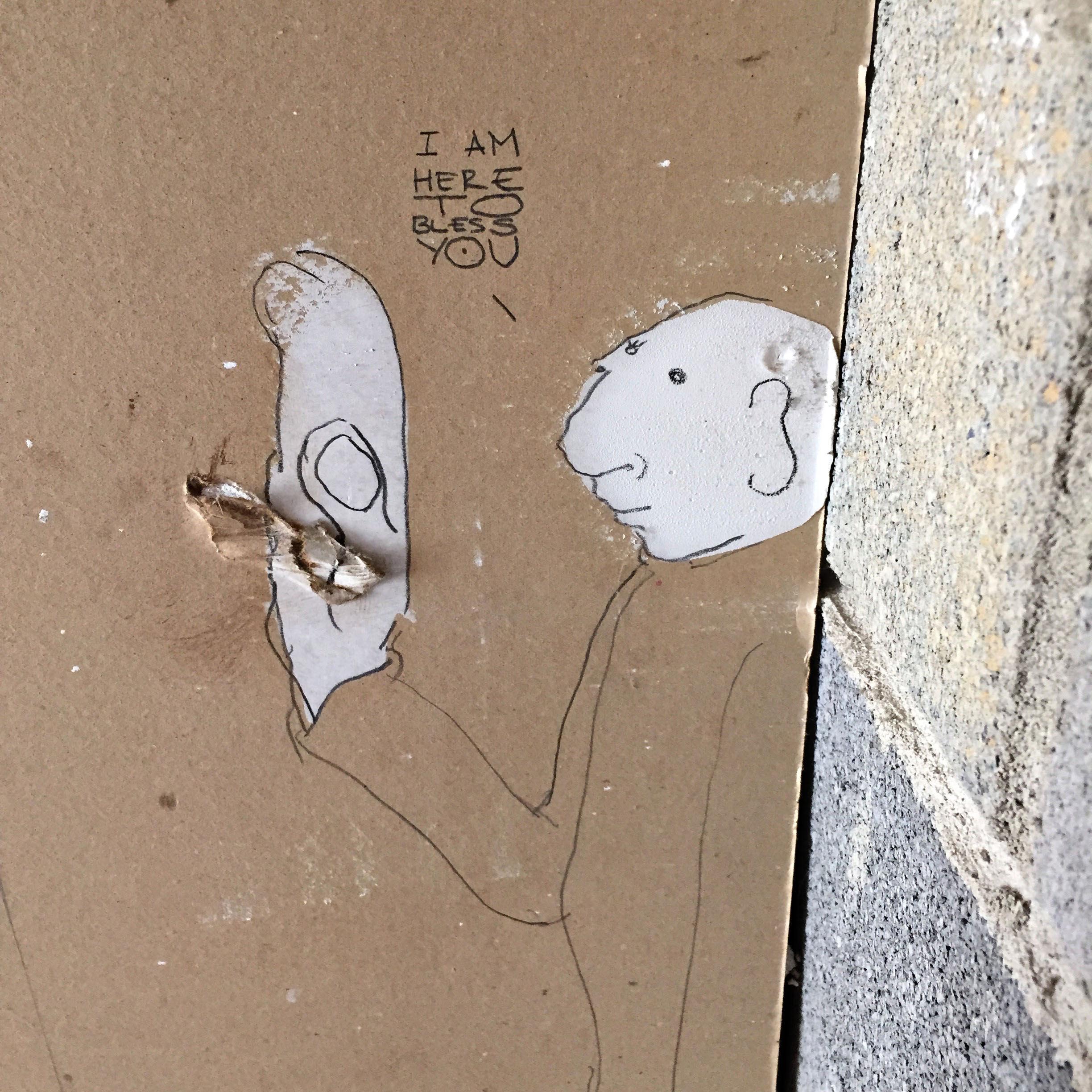 Les cuento mi historia para inspirarlos a buscar sus "propios garajes" en forma de lo que sea. A veces tenemos ideas que nos parecen locas, que las desechamos a mitad de camino porque hay que hacer demasiadas cosas para que sucedan, pero les juro que si uno tiene una visión firme, un plan de acción y va cumpliendo los pasos necesarios, no hay manera de no llegar a destino.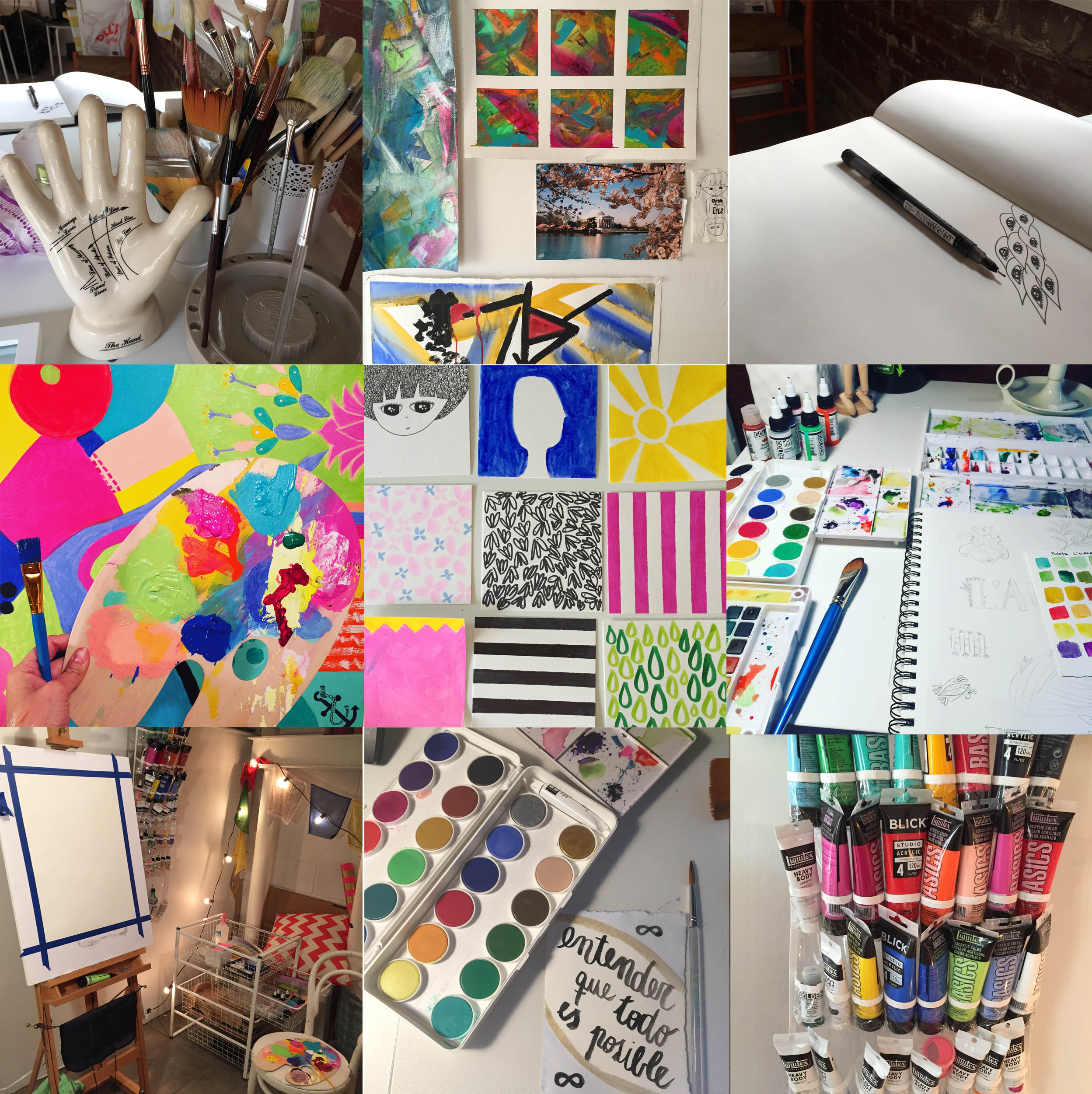 Espero seguir compartiendo con ustedes mis aventuras en mi "garaje estudio" y que se convierta en un lugar lindo para seguir creando. Linda semana para todos! Besos Nina.
p.d. Pueden seguir mis aventuras en Instagram bajo el hastag #thegaragestudio
English: The story of a garage … an epiphany of a Wednesday´s night
This is the story of a garage that was born to become an Art Studio, yes a place to create things. I have been super enthusiastic about the idea of ​​making art or at least trying to do something close to art. One of my first attempts to go in this direction was last fall when I enrolled in an abstract acrylic painting workshop. I loved the experience so I decided to enroll in a more serious watercolor course. One Wednesday, returning from the watercolor class I started thinking about having a space to create, a place where I could spread my paints and make a mess, not in my living room, not in my bedroom.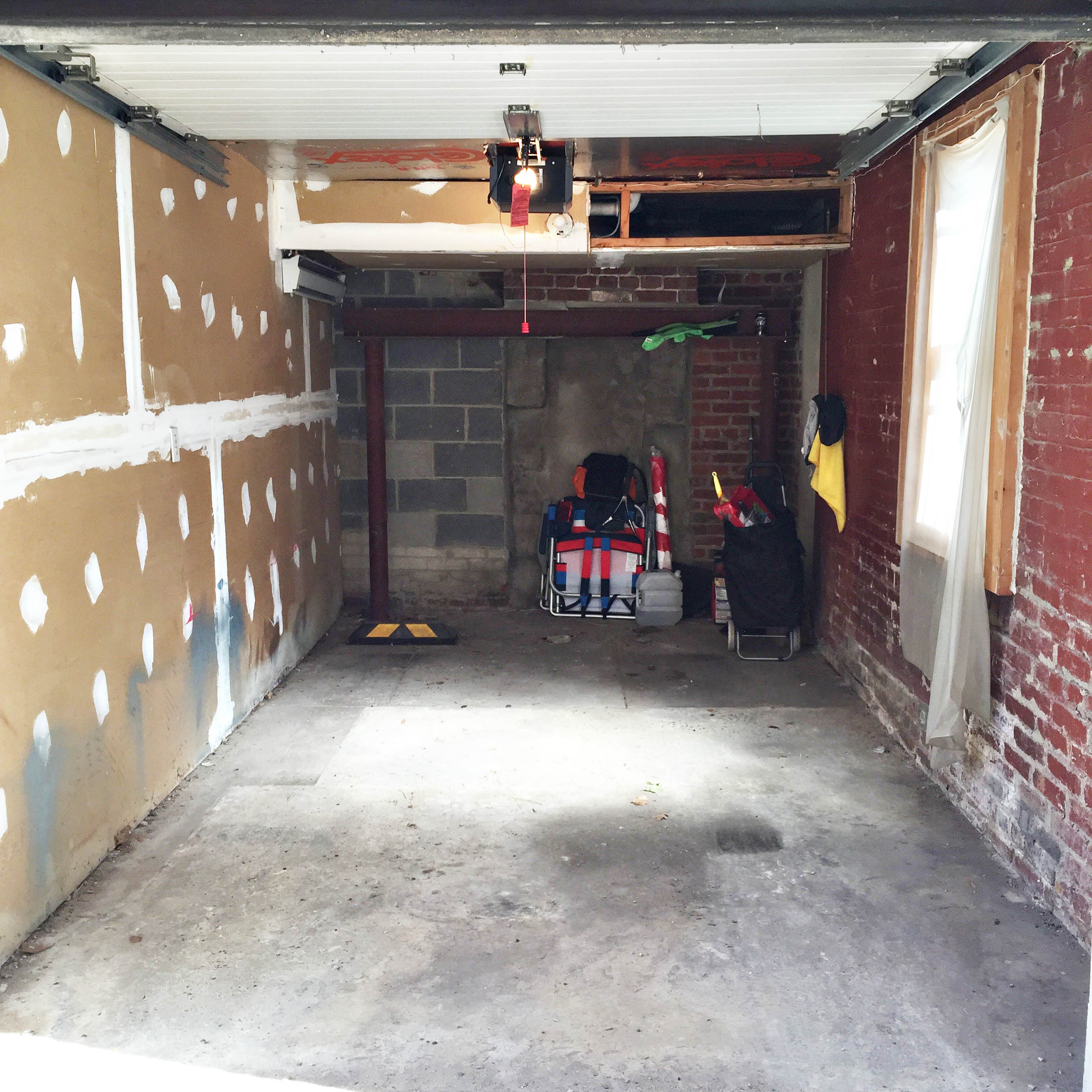 It was not realistic to think about renting a place for doing this, rents in DC (like other cities in the world) are expensive. So I started to think in other directions and trying to solve this problem with creativity. The first idea that magically came up to my mind was: why don´t you use the garage? And by "the garage" I was thinking the one my boyfriend was using to keep his car (thanks for boyfriends with garages)
This idea was the inception of everything that came after: it was an amazing space, it had a window, was near my house and it had a lot of potential (imagine my head spinning here). Of course my imagination was way before the reality, it needed some paint, some cleaning and needed some effort in order to transform it in a livable place.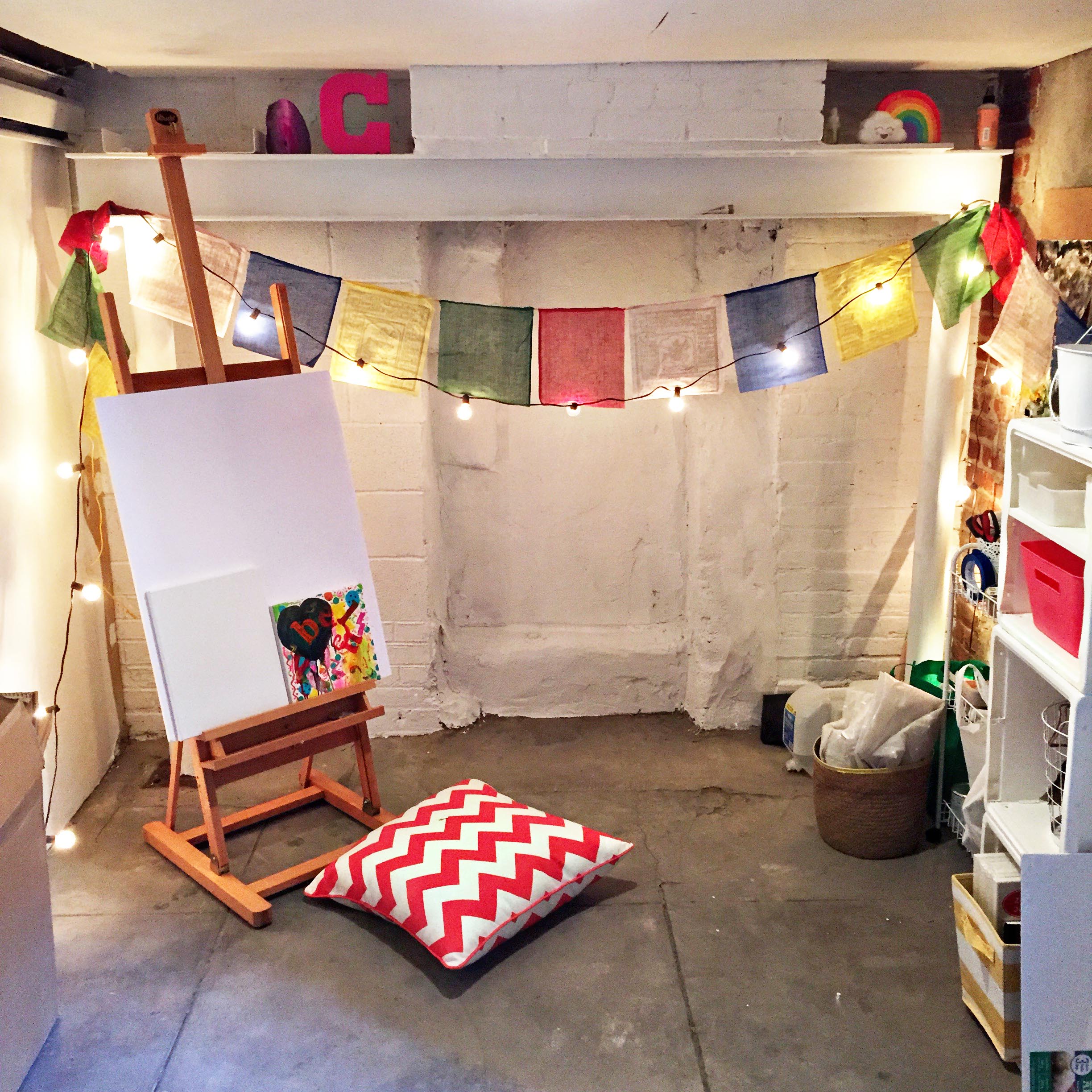 The first step was to convince my boyfriend to give away the garage literally for art's sake ;P Lots of things needed to happen: I was needing the owner´s permission to use it as a studio, I needed to paint and clean this amazing space and also needed another garage to park the car. These things occurred in a total of one month and a half and to be honest there were some moments where I really did not know if my dream would come true. But for my happiness the owner finally agreed and I finally found another place for the car. So that dark space that once was the room of a car became what I dreamt of: a beautiful GARAGE STUDIO.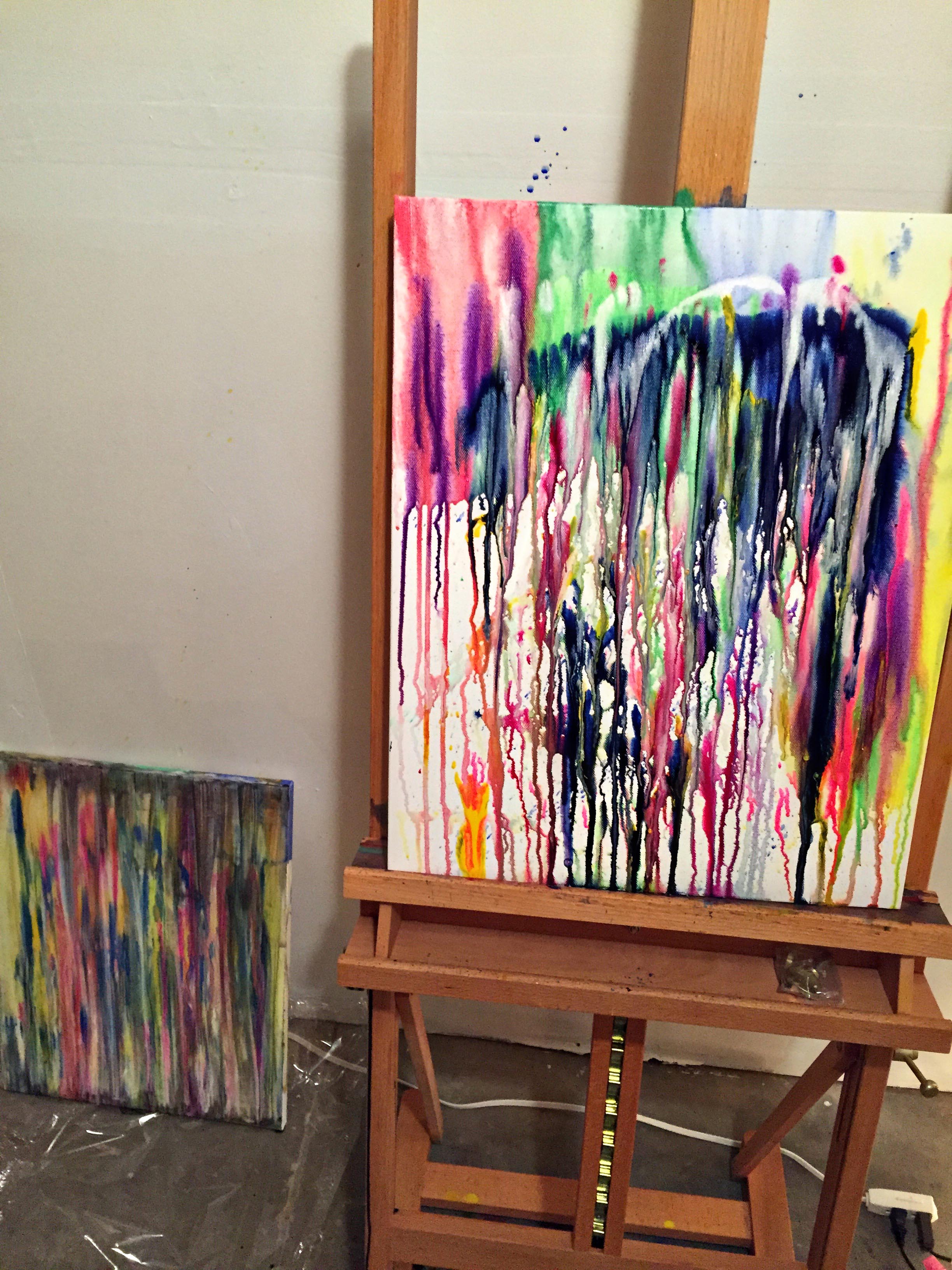 I tell my story to inspire you to find your "own garage" in the form of whatever you need. Sometimes we have ideas that seem crazy, that we dispose halfway because they need a lot of effort or energy to became a reality. But we have to listen to these "crazy ideas", believe in you and in your instinct. I swear that if you have a strong vision and take baby steps you are going to get to the destination and further. Everything that you see in this world starts as an idea in someone´s head. For me it was a garage studio..
I look forward to keep sharing with you my adventures in my " garage studio " and hope it becomes in a lovely place to keep creating . Hope you have an amazing week! Kisses from the north, Nina.
P.S. You can check my adventures in Instagram under the hashtag #thegaragestudio