(Este post está escrito en inglés y español, scroll down for the English version)
Estoy cada vez más convencida que las cosas nos llegan cuando estamos preparados para enfrentarlas o aprovecharlas. El año pasado tuve un momento de crisis y búsqueda desesperada de cómo iba a continuar mi carrera. Los cánones de tener una buena carrera me indicaban que tenía que seguir estudiando, TENGO que hacer un master, TENGO que hacer algo con mi vida, TENGO que invertir en mi carrera y una lista de TENGOS se instalaron en mi cabeza.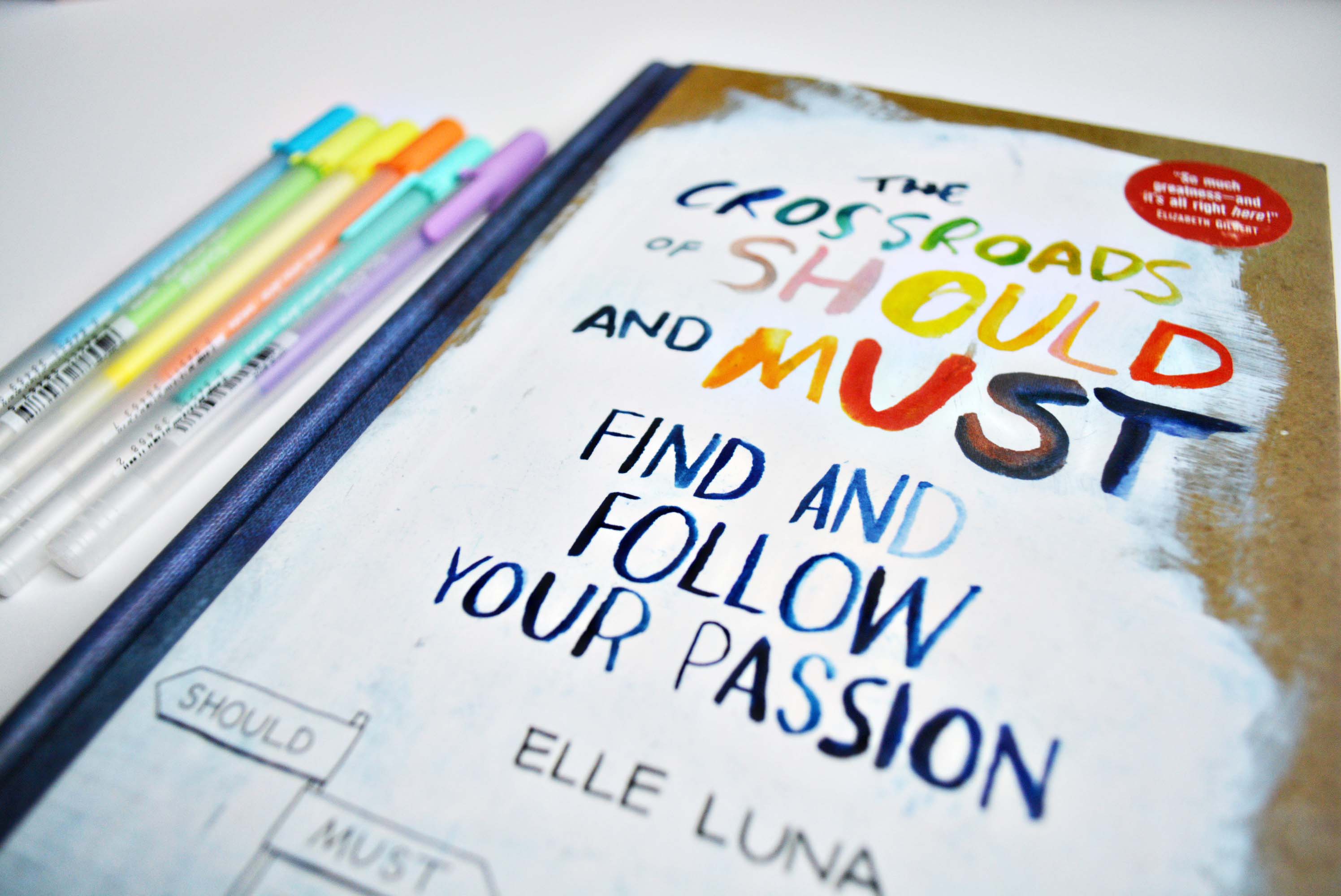 No sé como sucedió, pero en esa búsqueda sobre lo que debía hacer, que incluían listados eternos de universidades para estudiar y búsquedas interminables de cursos, me crucé con un artículo como caído del cielo que se titulaba "THE CROSSROADS OF SHOULD AND MUST" (en español: "El cruce entre tengo y debo", escrito por un ser tan mágico como su nombre Elle Luna. Ese tipo de artículos que llegan para ser leídos en el momento justo, en el momento exacto.
Elle Luna es una joven diseñadora gráfica de San Francisco devenida en artista. Su currículum incluye un listado de momentos exitosos como su pasaje por IDEO y el rediseño de la aplicación de UBER entre otras cosas. Un día en abril del 2014, Elle compartió con el mundo su visión en este artículo que se convirtió en un fenómeno viral y sería la base de su primer libro.
There is a recurring choice in life, and it occurs at the intersection of two roads: SHOULD AND MUST. We arrive at this place again and again. And today, you get to choose.
En el libro, que también les recomiendo leer, ella explica el proceso que vivió para salir de los "TENGO QUE" y cómo hizo para entrar en contacto con lo que ella realmente quería para su vida. Esa zona donde sus decisiones estaban alineadas a su esencia.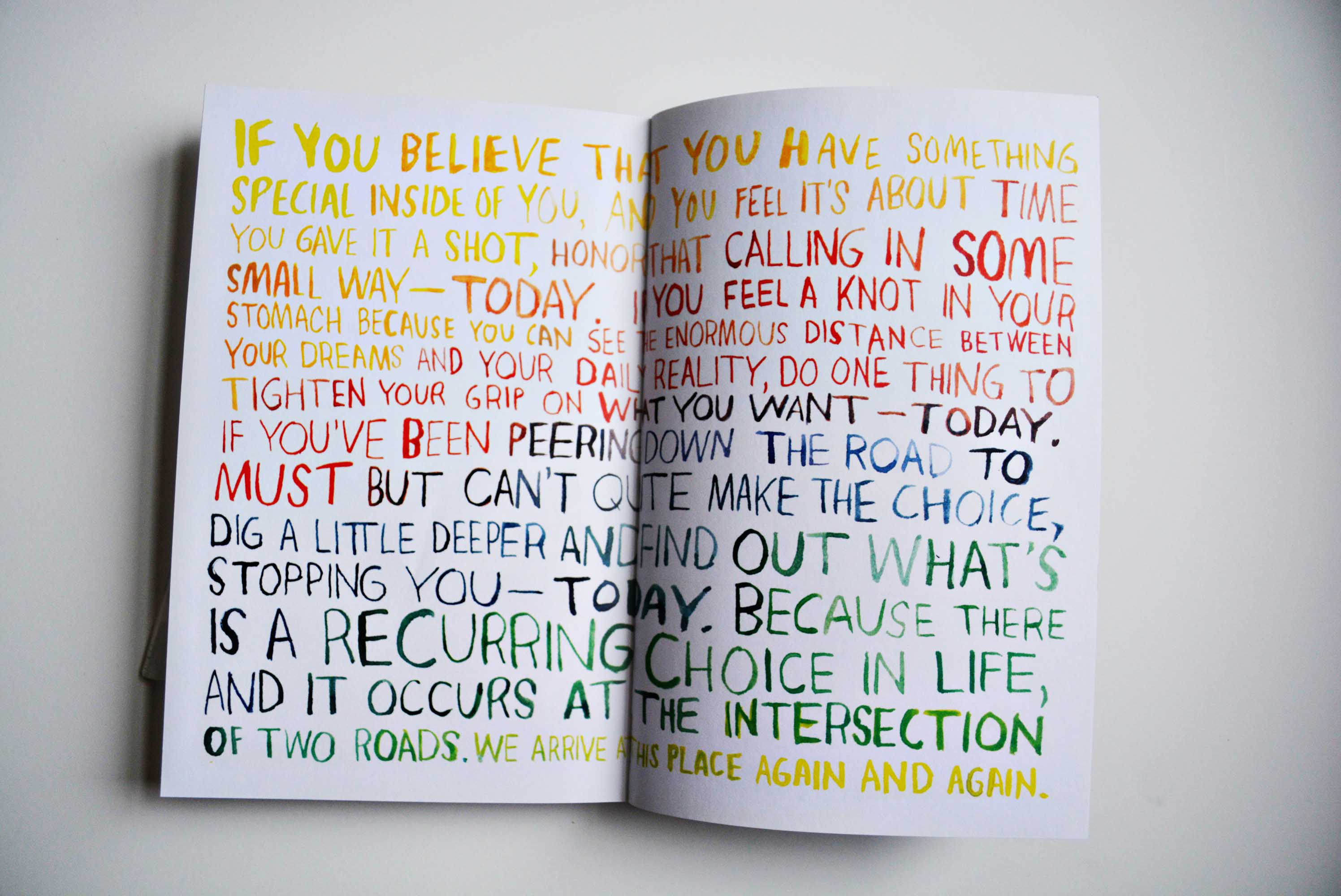 Según explica la autora EL TENGO QUE HACER tal o cual cosa "está marcado por el mundo exterior, es lo que se supone que debemos pensar, hacer o decir. Son las expectativas depositadas en nosotros que la sociedad o nuestra familia esperan que hagamos. Estos caminos son los transitados por todos, donde el camino es tranquilo con pocos riesgos.
Lo que SENTIMOS HACER es totalmente diferente, es algo que viene de nuestro interior, que nos define. Es lo que somos. Cuando conectamos con esta parte es imposible no escuchar nuestra intuición. Cuando elegimos hacer "lo que sentimos hacer" conectamos con nuestra misión. Al principio puede sonar extraño y el miedo puede paralizarnos, pero según la autora hay que identificar cada uno de esos miedos y no dejarse vencer por ellos, seguir adelante.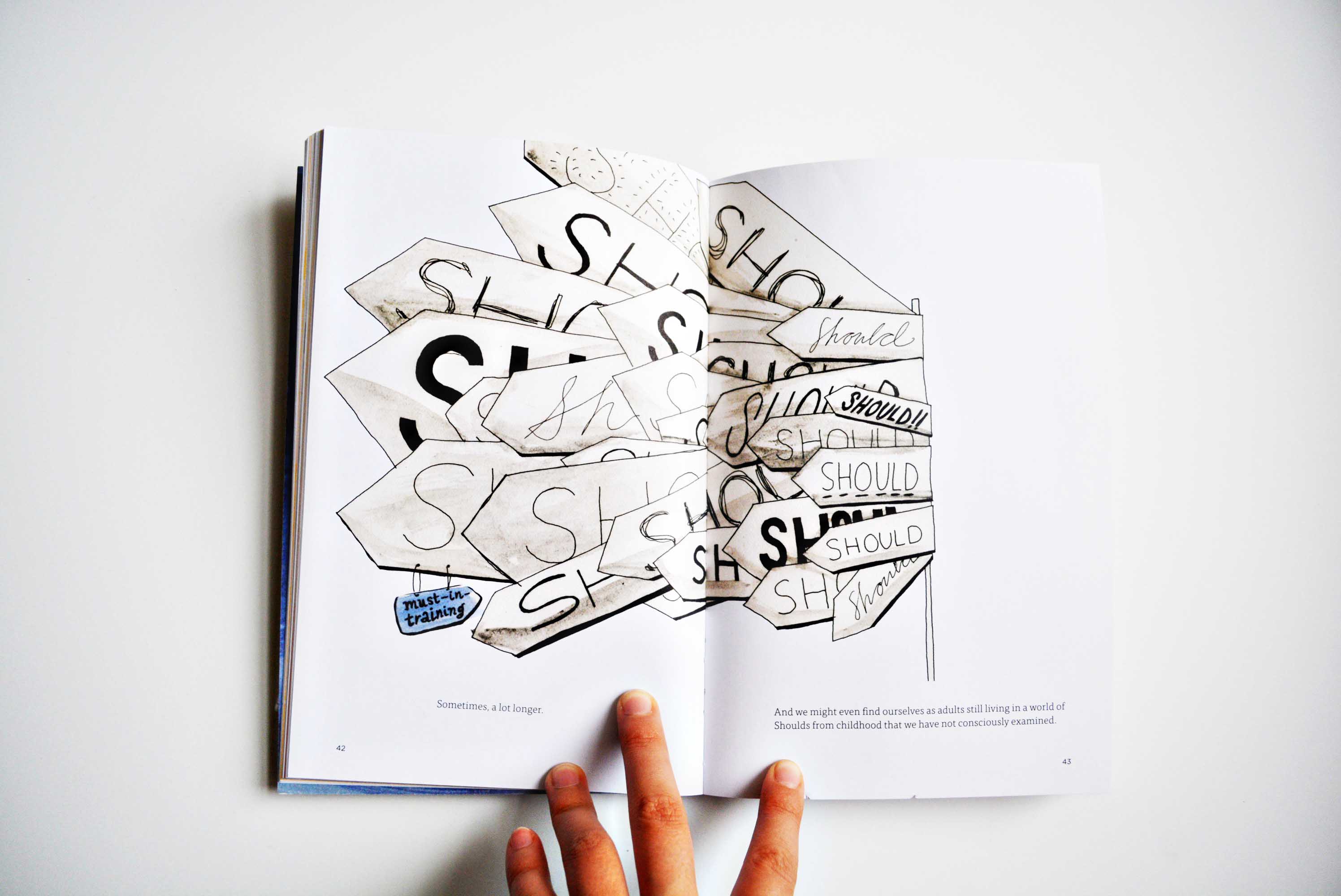 En mi humilde opinión hacer las cosas porque ES LO QUE HAY QUE HACER o ES LO QUE LA SOCIEDAD MARCA QUE HAY QUE HACER nos lleva a alejarnos de nosotros mismos, nos lleva a hacer cosas que no sentimos y por ende que a larga no disfrutamos. Quizás a corto plazo funcione y no sea un problema, pero a la larga eso va a manifestarse y tendremos que hacernos cargo. Practicar el HACER LO QUE SENTIMOS HACER puede implicar mucho trabajo al principio, porque muchas veces puede significar ir en contra de "las prácticas recomendadas de la sociedad". O puede entrar en conflicto con lo que nos enseñaron y aprendimos como natural. Pero si uno comienza de a poco a ESCUCHARSE y a RESPETAR EL SENTIR, esa voz interna que todos tenemos se va a hacer escuchar cada cada vez más fuerte y firme y TU SENTIR se va a alinear con TU HACER llevándote a reencontrarte con tu propósito y en esa zona ya nada te va a parecer pesado o vacío. Es cuando todo lo que viniste a hacer en esta vida cobra sentido.
Linda semana para todos,
Carolina.
_________________________________________________________________________________________________
THE CROSSROADS OF SHOULD AND MUST
I am convinced that things come to us when we are ready to face them or when we are ready to understand them. Last year I had a crisis and I started a desperate search on how to continue my career. The "shoulds" in my head kept saying to me that I had to continue studying. My head was like a radio tuning in the should station: YOU SHOULD enroll in a master degree, YOU SHOULD do something with your life, YOU SHOULD invest in your career and the list of SHOULDS grew bigger and bigger.
I don´t remember exactly at which point I put a limit and switched off the radio in my head but my search for a better an brilliant future included endless university lists and endless course lists. One day and from out of the blue I came across an article that was titled "THE CROSSROADS OF SHOULD AND MUST" written by a magical soul with a magical name: Elle Luna. This article hit me at the right moment and at the right time! it all started with:
This is a story about two roads — Should and Must. It's a pep talk for anyone who's chosen Should for far too long — months, years, maybe a lifetime — and feels like it's about time they gave Must a shot. Elle Luna
Elle Luna was a successful graphic designer from San Francisco but she left her career in order to listen to her call to become an artist. Her resume included numerous successful moments, like working for IDEO and being in charge of redesigning the Uber App, among other things, but one day in April 2014, Elle shared with the world her article and became a viral phenomenon. It was also the cornerstone for her first book.
There is a recurring choice in life, and it OCCURS at the intersection of two roads: SHOULD AND MUST. We arrive at this place again and again. And today, you get to choose .. Elle Luna
In her book, she explains the process she went through when leaving the JOB she loved and how was the process that led her to listen her CALLING of being an artist. She says that "THE SHOULD" in our lives is marked by the outside world. It is what we are supposed to think, do or say. These are the expectations that have been placed on us. It is what our family or our society expect us to do.
What we MUST DO is something totally different, because it is aligned with our essence. It's something that comes from within, that define us and is what we are. When we connect with this part it is impossible not to hear our intuition. When we choose to do "WHAT WE FEEL TO DO" we connect with our mission. At first it may seem strange and the fear can paralyze us, but according to the author it is important to identify each of these fears so we can go ahead and keep walking in the direction of our dreams.
In my humble opinion, those SHOULDs in our head are responsable for making us do things we don´t want to do, and therefore, do things we don´t enjoy. Perhaps in the short-term this can work, but eventually the internal discomfort will pop up and we will have to take care of it. Choosing our MUSTs can be a lot of work in the beginning, it may mean going against the society´s rules or it may enter in conflict with what we were taught. But if you begin to introduce the MUSTs in your life, with small drops, you will slowly start listening your inner voice and that would lead you to respect your feelings. This inner voice is going to grow stronger and will guide you to align your existence with what you were suppose to do in the first place.
Have a lovely week,
Carolina.