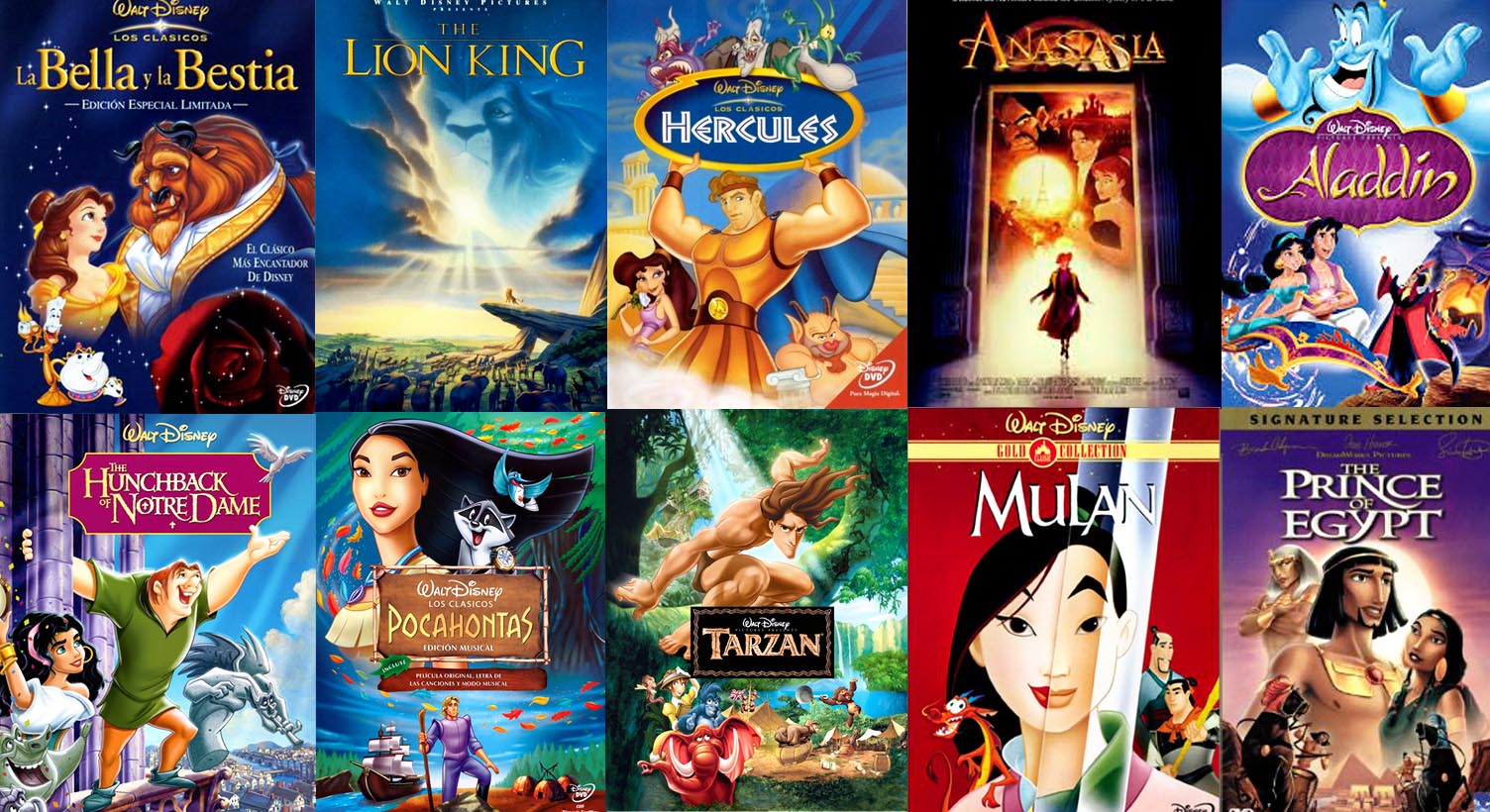 There are some animated classics that I love and I was lucky to watch them in cinema when I was just a girl. Today I share with you this "short list" of these animated movies that were produce previous to the digital and Pixar era. For me are relics of the 90´s but what I love the most is their music. All these films used to have a central theme song that was interpreted by some famous artists. Here is the throwback soundtrack Friday. Hope you have a lovely weekend, Nina

1. The Beauty and the Beast (1991). Song by Celine Dion and Peabo Bryson.

2. Aladdin (1992). Song "A Whole new world" by Peabo Bryson and Regina Belle

3. The Lion King (1994). Song "The Circle of Life" by Elton John.

4. Pocahontas (1995). Song "Colors of the wind" by Vanessa Williams.

5. The Hunchback of Notre Dame (1996). Song "Someday" by R&B group All-4-One.

6. Hercules (1997). Song "Go to Distance" by Michael Bolton.
7. Tarzan (1999). Song "You will be in my heart" by Phil Collins.

8. Mulan (1998). Song "My reflection" by Christina Aguilera.

9. Anastasia (1999). Song "A journey to the past" by Aaliyah.

10. The prince of Egypt. Song "When you belive" by Mariah Carey and Whitney Houston.
———————————————————————————————————-
Spanish: Hay algunos clásicos de Disney que tuve la suerte de ver en el cine cuando era chica que realmente me encantaron. Hoy comparto con ustedes está "short list" de películas animadas previas a la era Pixar y digital que son una reliquia de los 90. Todas estas películas tenían la característica de que contaban con una canción central alucinante siempre interpretada por alguna figura famosa del mundo de la música que después se volvía hit y lo pasaban en las radios (me siento media abuela). Les dejo los videos con los temas principales de cada peli, siempre fueron soundtracks que me encantaban, todos tienen mensajes re lindos! Buen finde, bsos. Nina

1. La Bella y la Bestia (1991). Canción "La Bella y la Bestia" por David Bisbal y Chenoa.

2. Aladdino (1992). Canción "Un mundo Ideal" por Ricardo Montaner y Michelle.

3. El Rey León (1994). Canción "El ciclo sin fin" por Tata Vega.

4. Pocahontas (1995). Canción "Colores en el viento" por Susana Zabaleta.

5.El Jorobado de Notredame (1996). Canción "Sueña" por Luis Miguel.
6. Hércules (1996). Canción "No importa la distancia" por Ricky Martin.
7. Tarzan (1999). Canción "En mi corazón Viviras" por Phil Collins.
8. Mulan (1998). Canción "Mi Reflejo" por Cristina Aguilera.
9. Anastasia (1999). Canción "Viaje al tiempo atrás" por Thalia.
10. El principe de Egipto (1998). Canción "Si tienes fe".